"Go To Hell Tours", Oil on Canvas, 18" X 24", 2009
"Birth of Man", Oil on Canvas, 16" X 20", 2011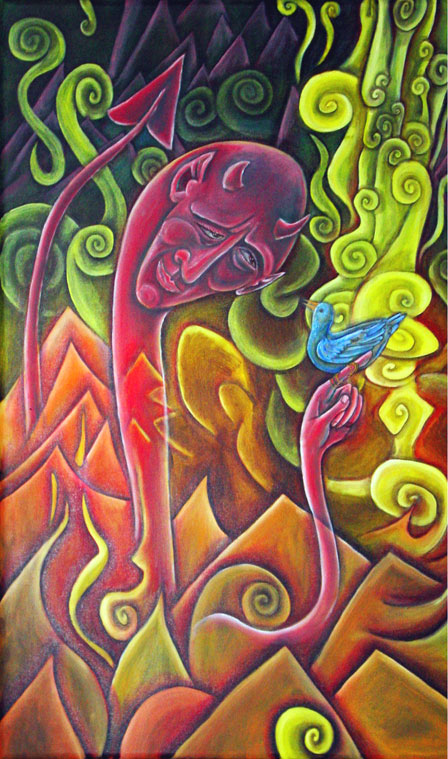 The Devil and the Bluebird, 2004, Oil on canvas
"Puppeteer #2", Oil on Canvas, 24" X 30", 2005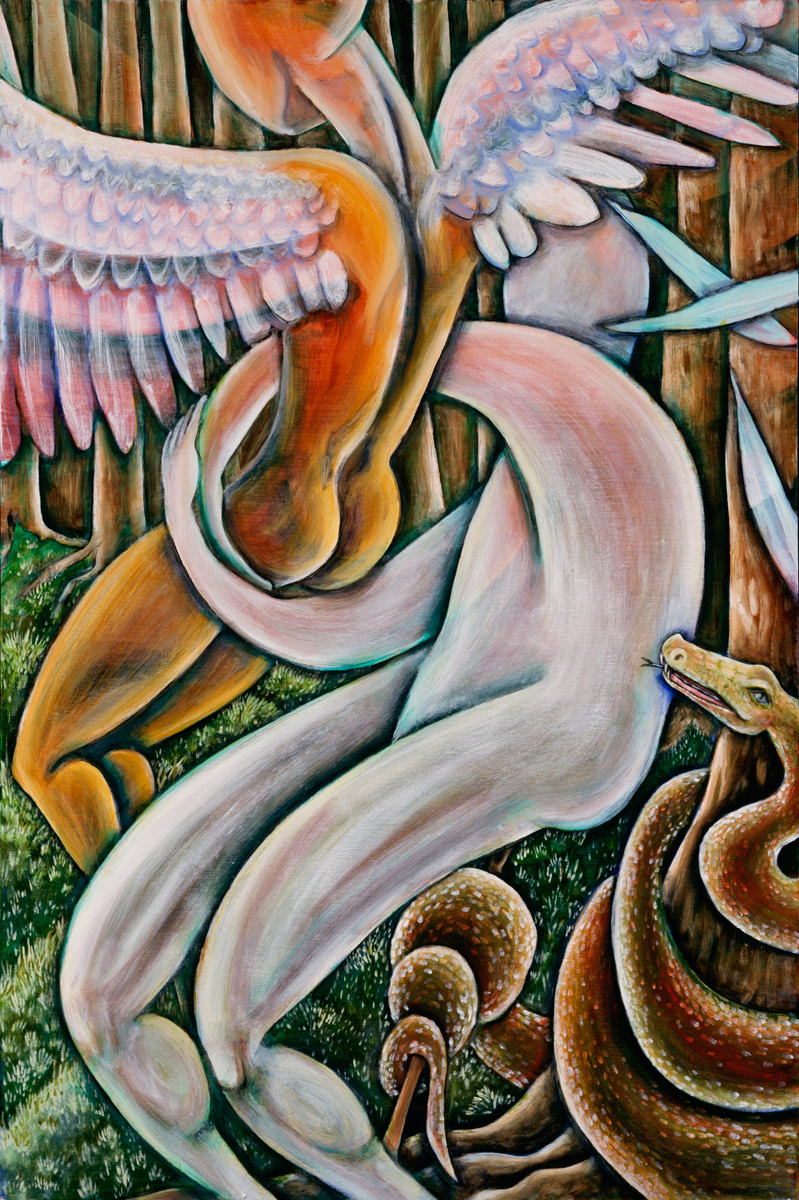 "The Evil that Men Do (The Puppeteer)", Oil on Canvas, 24" X 36", 2005
Potential, 2003, Oil on canvas
Humanity, 2004, Oil on canvas
Bringing Light to the Dark Places #2, 2005, Oil on canvas
Bringing Light to the Dark Places, 2003, Oil on canvas
"Go To Hell Tours", Oil on Canvas, 18" X 24", 2009
An evil DarthVader-ish devil lords over a cavern of torture and despair as an inter-dimensional van tour pops in to check out the scene. This painting is available printed on t-shirts and other items here.
"Birth of Man", Oil on Canvas, 16" X 20", 2011
Good and evil reside in every person.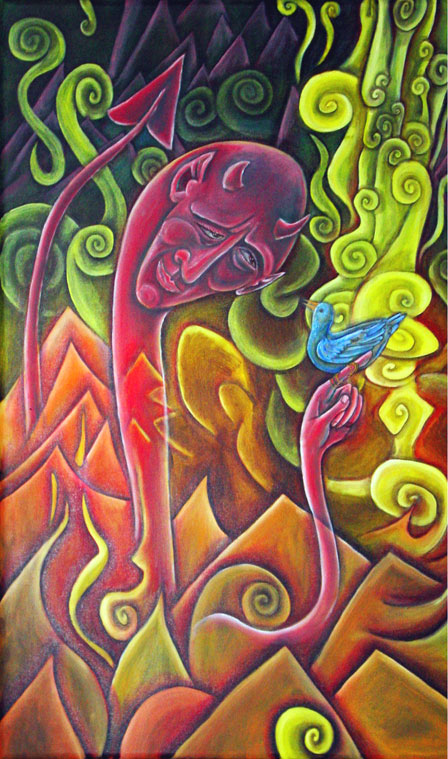 The Devil and the Bluebird, 2004, Oil on canvas
Even the most evil creature has a little bit of good in it. 
"Puppeteer #2", Oil on Canvas, 24" X 30", 2005
Even the king can be possessed by evil.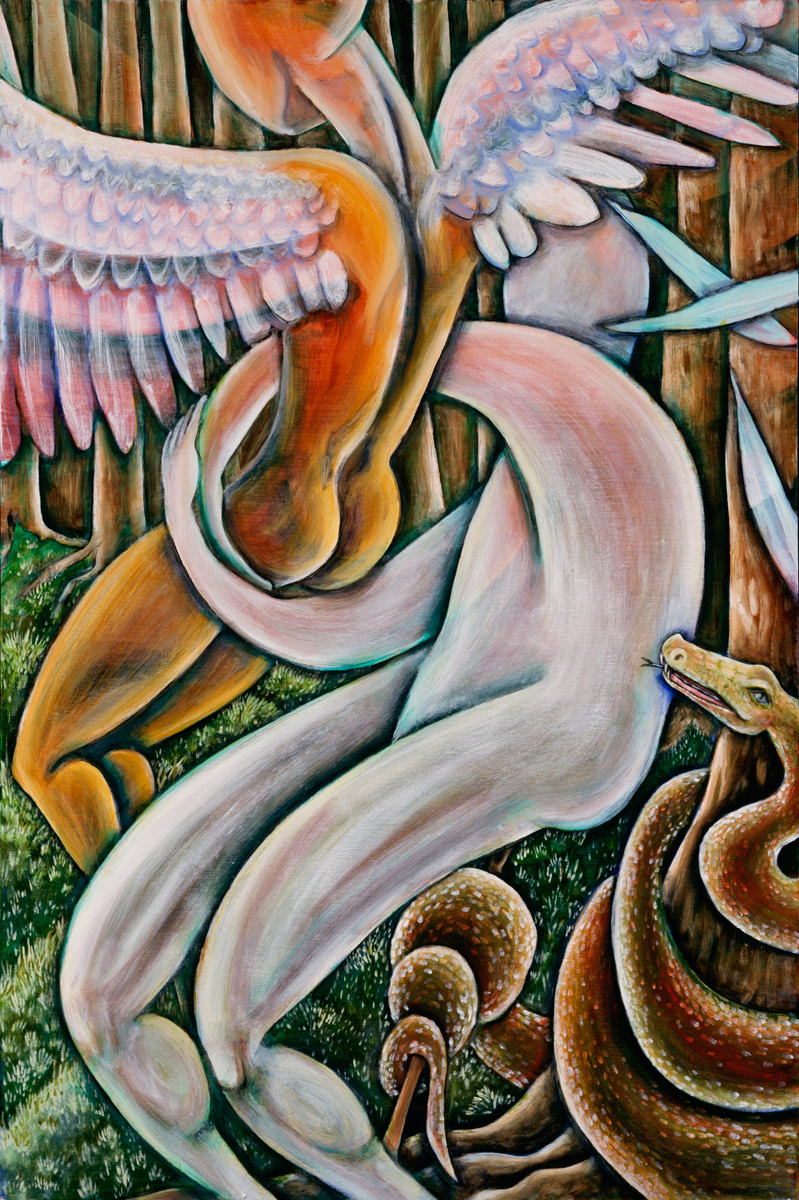 "The Evil that Men Do (The Puppeteer)", Oil on Canvas, 24" X 36", 2005
A winged man is grabbed out of the air in mid-flight by another man who is being controlled by a snake wielding a well-placed stick.
Potential, 2003, Oil on canvas
In the womb of a woman, sperm meets egg and a zygote is formed.         This zygote becomes a fetus with tremendous potential, both good and evil.         All people began their existence as a mass of cells. Ghandi had a mother         and a father, but so did Hitler. 
Humanity, 2004, Oil on canvas
Rev. Martin Luther King Jr. once said, "An individual has not started living until he can rise above the narrow confines of his individualistic concerns to the broader concerns of all humanity."
Bringing Light to the Dark Places #2, 2005, Oil on canvas
Bringing Light to the Dark Places (#1) reminded a friend of mine of the story about the man walking along the beach throwing starfish he found back into the water. He encounters another person who asks him why he's throwing the starfish back into the sea since there are so many of them stranded on the beach. He says there's no way it'll make a difference. The man replies, 'Well, it made a difference to the one I just threw in.' My friend commissioned me to create this image as an homage to both the original painting and that story.
Bringing Light to the Dark Places, 2003, Oil on canvas
It is our duty, as agents of goodness, to spread that goodness         into the darker, dangerous places so that we no longer have to fear them.